Nowadays the main activities of the LNG business focus on mega projects and big-scale LNG market and the comparatively diminutive market of micro- and nano-scale bio-LNG doesn't get enough attention. Even if there are many market players, this segment is generally not yet in the focus of the industry participants but taking into consideration the great potential of this market it should be.
Second day of the II International Conference
On 15th of June II International Conference of Liquid Energy project took place at Pomeranian Science and Technology Park in Gdynia.
During the Conference, speakers from Norway, Poland, Lithuania and Germany were talking about Bio-LNG Market – Challenges and Opportunities for Technology on the Micro- and Nano-Scale. Also a training has took place. During the Conference, the Memorandum of Understanding (MoU) for Cooperation has been signed.
Terje Hyldmo, Biokraft AS (Norway)
Biokraft Skogn contributes to reducing emissions of greenhouse gases and contributes to green business development. They convert the cleaned biogas from fishery waste and residual paper mill slurry into liquid fuel.
Biogas as a fuel – according to compressed biogas, local range is about 80-100km. "Dead fish to power cruise ships – our company to fuel liners with biogas made from leftovers of fish processing" says Terje Hyldmo.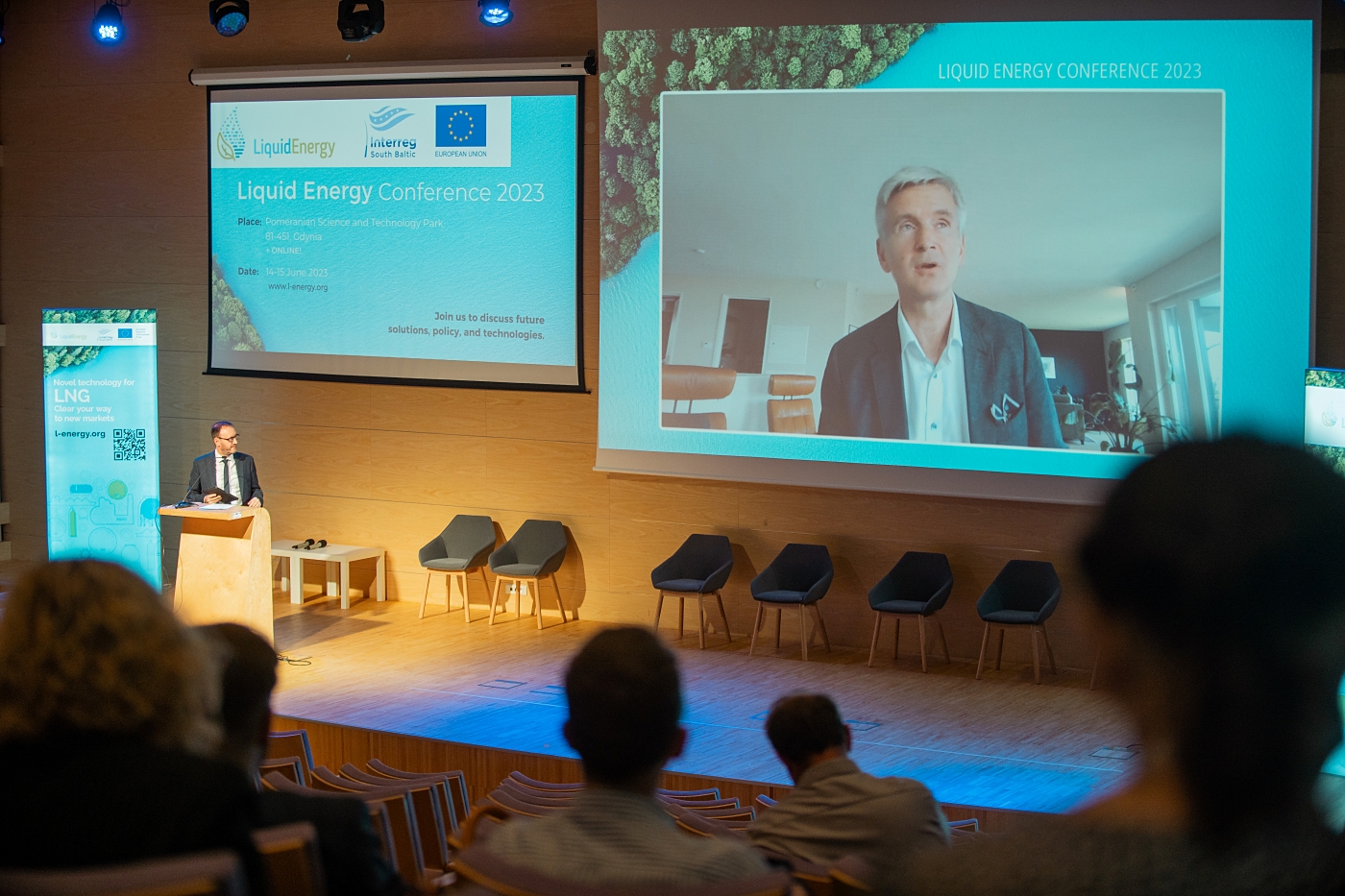 Mindaugas Protas, Amber Grid (Lithuania)
Biomethane certification and biomethane market development in Lithuania has been discussed by Mindaugas Protas from Amber Grid. Participants had a chance to hear about guarantees of origin, certification and voluntary schemes, challenges with two certification system – possible risks and solutions.
"If we are talking about biomethane market in Lithuania, physical biomethane import started from 2022 and is ongoing. For 2023 it is planned to import around 60 GWh of biomethane" says Mindaugas Protas.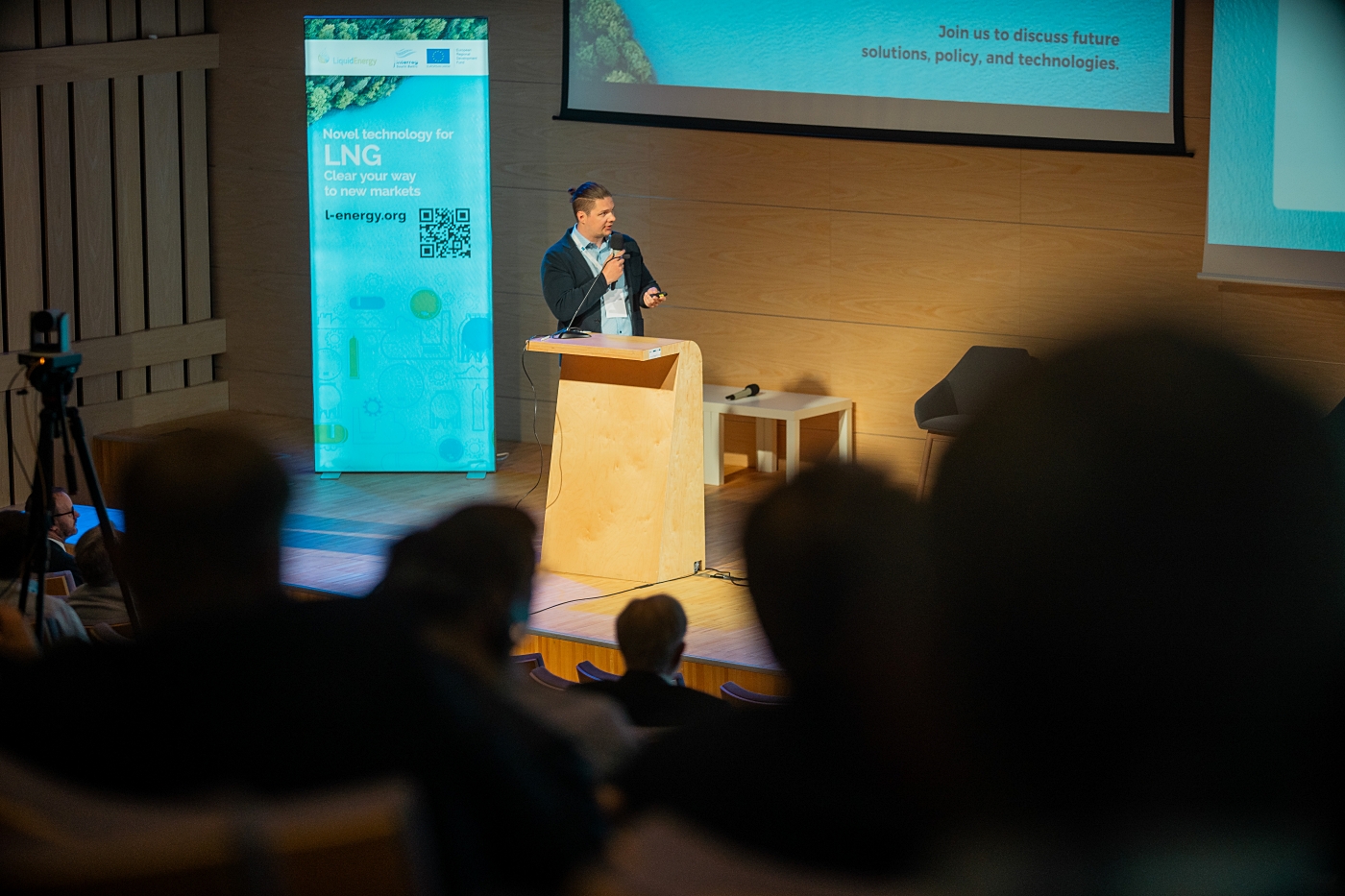 The main future challenges for Lithuania are GO cross border exchange availability among UE countries, bioLNG integration into GO system or renewable fuel statistics system.
Algirdas Cebatorius, Emerson Automation Solutions (Lithuania)
Emerson is a global leader in automation technology and software. They help customers in critical industries, like energy, chemical, power and renewables, life sciences and factory automation operate more sustainably while improving productivity, energy security and reliability.  
"This is a truly transformative moment for our company as we position Emerson for a promising future as a leading global automation company" adds Lal Karsanbhai, President and Chief Executive Officer.
Emerson's Environmental Sustainability Framework:
greening of;

greening by;

greening with.
Greening of is about improving internal environmental sustainability performance, greening by focuses on how Emerson technologies and solutions enable customers' sustainability  journeys. Greening with means fostering collaboration and innovation among global value chain partners.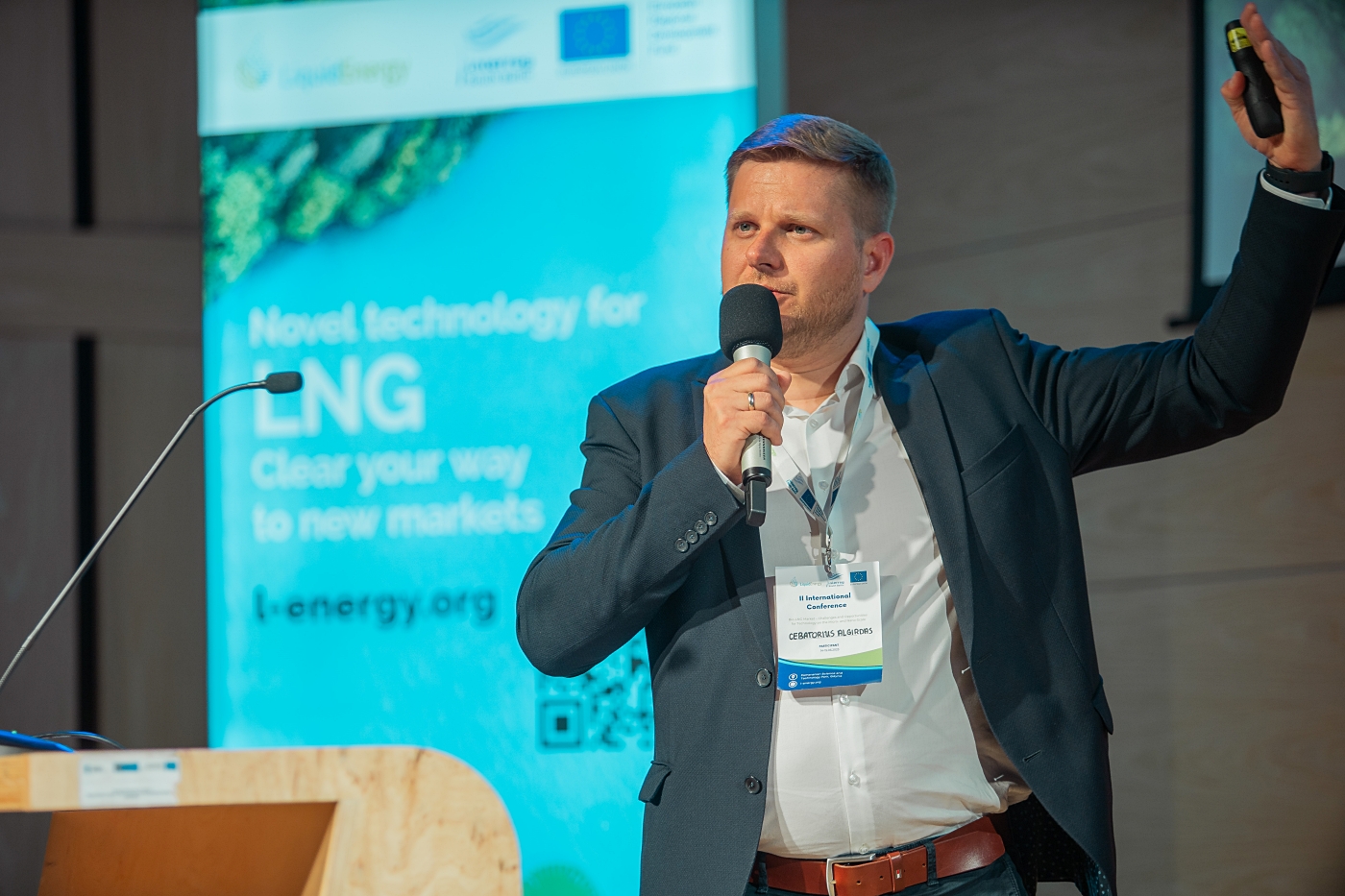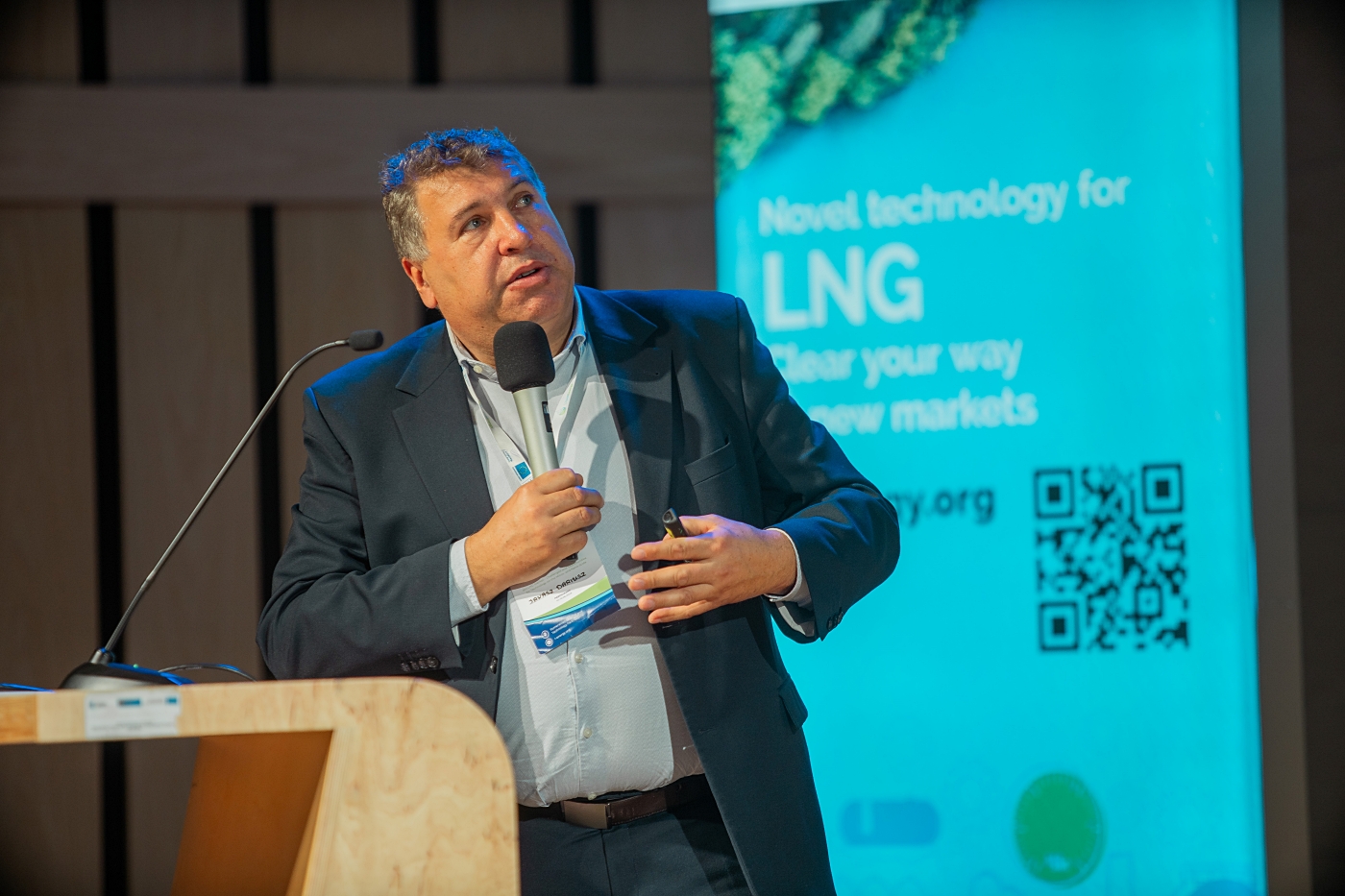 The Inherent Operational Challenges are: ensure gas quality, safety and efficiency and high costs. "The LNG industry will continue to adopt, implement, and update safety measures that protect the health and well-being of all parties" says Algirdas Cebatorius.
Signing Memorandum of Understanding (MoU) for Cooperation
MoU is about promoting Micro- and Nano-scale LNG and bio-LNG technology for decarbonisation and strengthening access to energy sources in rural and infrastructure-lacking areas and has been signed not only by partners of the project but also by participants of the conference.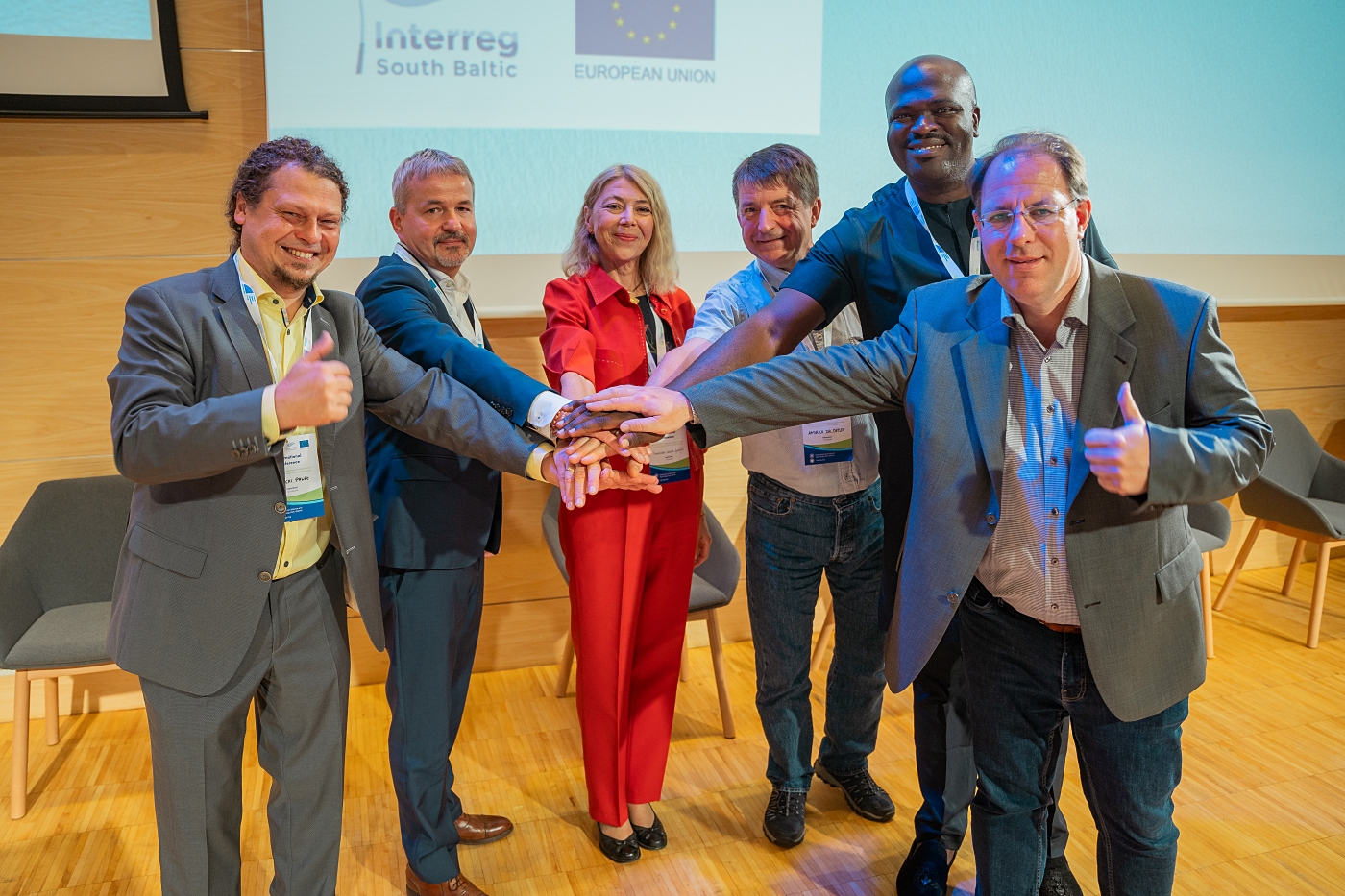 The activities undertaken as part of MoU will aim to foster entrepreneurship and regional development,
with the goal of strengthening the regional economy in the areas covered by the joint projects and measures. The Parties recognize the potential for job creation, innovation, and economic growth that can arise from the adoption and implementation of micro- and nano-scale LNG and bio-LNG technology. Efforts will be made to support local businesses, facilitate skill development, and promote sustainable economic development in the regions covered by the measures initiated by the signatories of this document.
Training – Stefan Jankowski, Maritime University of Szczecin (Poland), Klaipeda Science and Technology Park (Lithuania)
"LBG – the introduction and the precautions to prevent hazards" has been a topic discussed during that speech.
The process of producing biogas is also largely cyclical and fits into an overall sustainable cycle of managing agricultural waste e.g: animal waste produced on a farm can be used to produce biogas, which can then be used to fuel the farm machinery.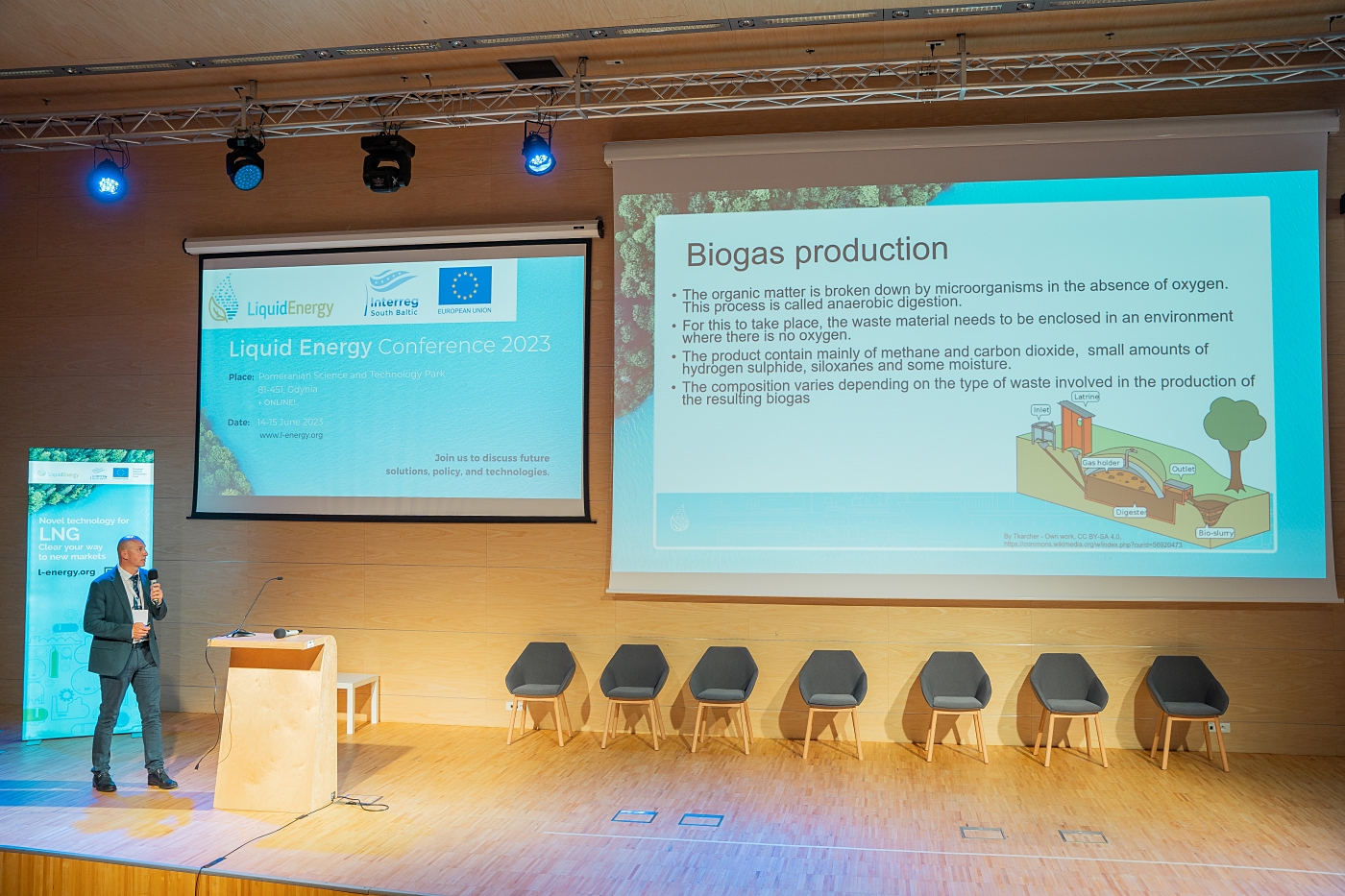 "Biogas is not to be confused with natural gas, which is a non-renewable source of power (fossil fuel)" says Stefan Jankowski. Differences: production method (time) – natural gas – mining, extraction from gas and/or oil fields. Biogas – capturing the gases produced by biomass decay. There is also a different in quantity.
It is important to remember that gas has three quantities: volume, temperature and pressure. There are three major gas rule govern the behaviour of gases: Boyle's Law, Charles' Law and Gay-Lussac's Law.
Training – Marcin Przywarty, Klaipeda Science and Technology Park (Lithuania), Maritime University of Szczecin (Poland)
The content of this part of the training has been focusing on the contribution to the safe operation, the occupational health, safety precautions and measures, and firefighting operations.
"If we are talking about Safety Data Sheet (SDS), we should remember that this document must be prepared by chemical manufacturers for the hazardous substances and preparations they sell and provided to each purchaser and must always be available during transport, use and storage" says Marcin Przywarty.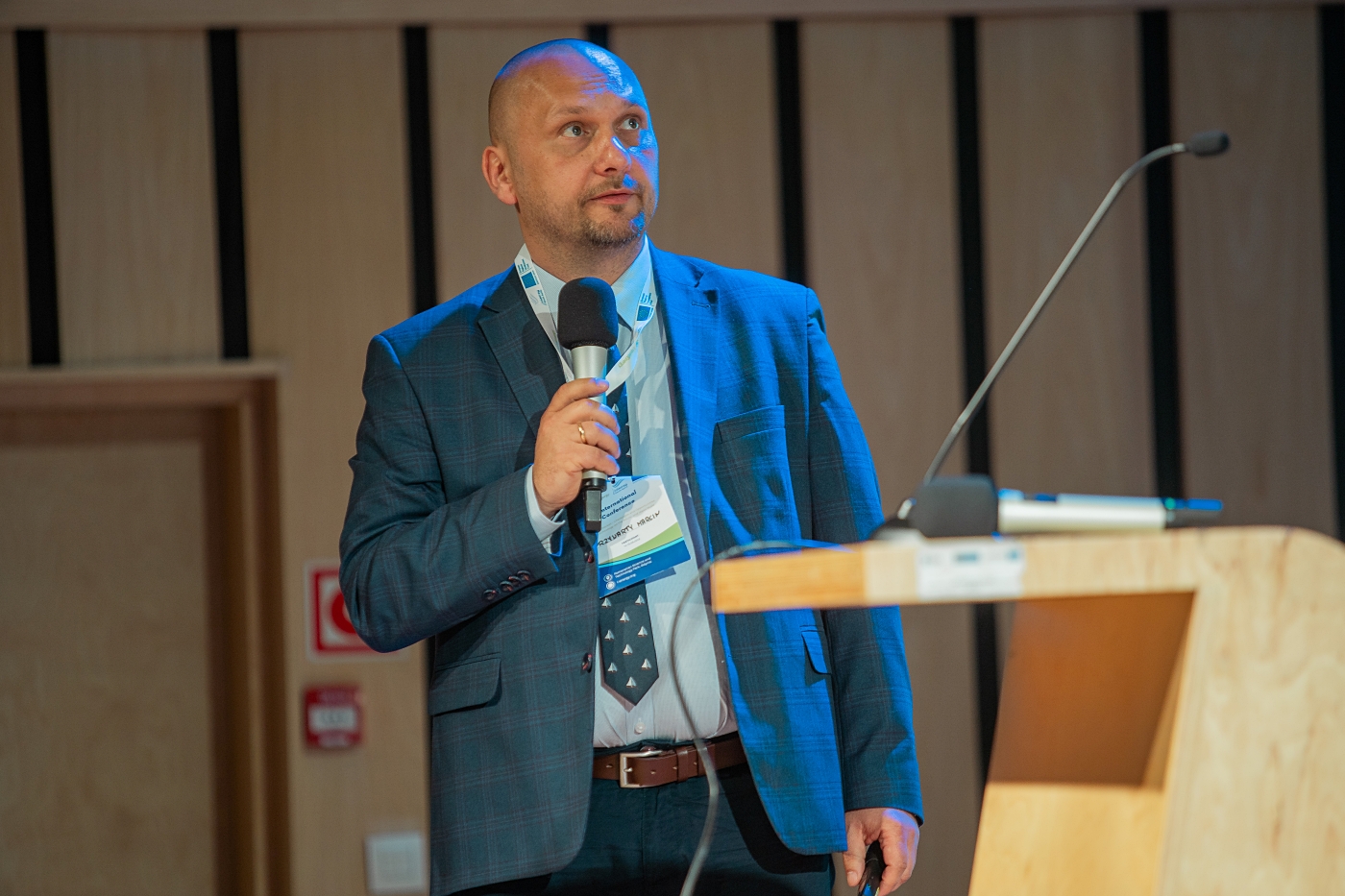 The most important to remember is, that safety of operation according to transportation/carriage is divided into:  by road (ADR), by rail (RID), by inland waterways (ADN), by sea (IGC code).
Nils Heine, inwl institute for sustainable economics and logistics (Germany)
Decentralised power and heating supply using smart office and building control system as a pilot investment.
The pilot project aims to demonstrate the feasibility and benefits of implementing a LNG solution for a decentralized energy supply system. "The pilot project will undergo rigorous evaluation to assess its performance, energy savings and user satisfaction" says Nils Heine.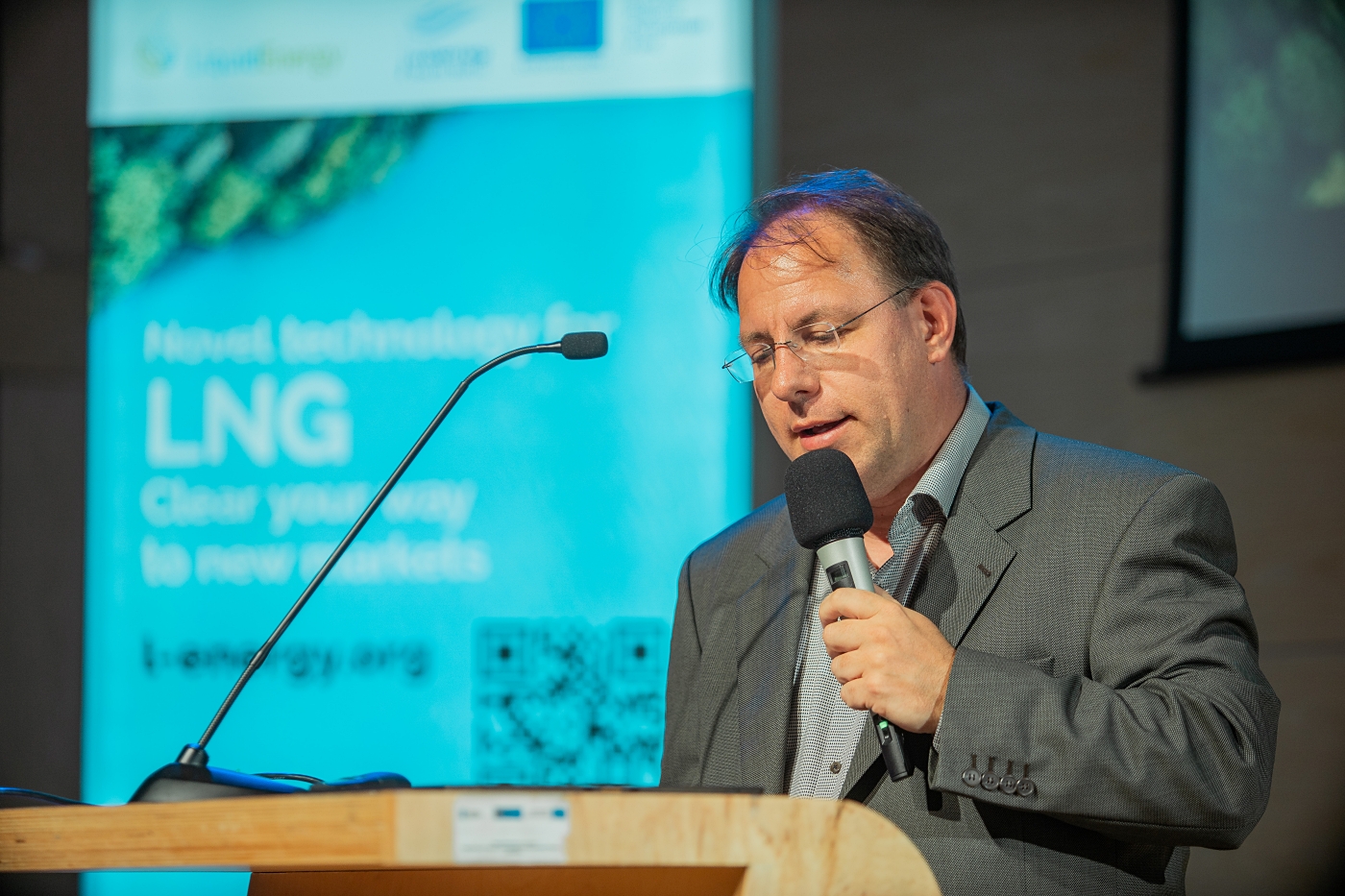 By integrating a CHP plant, solar energy, and smart home technology, the project seeks to achieve high energy efficiency, sustainability, and user-friendly control of the energy supply.
The pilot project offers several benefits:
the use of (bio-)LNG reduces greenhouse gas emissions and contributes to a cleaner and more sustainable energy mix;

the CHP plant maximizes energy efficiency by utilizing waste heat, resulting in cost savings and reduced energy consumption;
the integration of solar energy further reduces reliance on (bio-)LNG and promotes renewable energy utilization.
Przemysław Rajewski Ph.D. Eng., Association for the Promotion Knowledge about Sea (Poland)
Implementation of natural gas and bio-natural gas as fuels on small vessels – Magda I as a pilot investment.
Ship air pollution standards are contained in the International Convention for the Prevention of Pollution from Ships (MARPOL) and regulated by the International Maritime Organization, a UN Agency.
"There is many advantages of Natural Gas as a marine fuel, for example reducing harmful emissions of NOx, CO2, lower costs, reducing maintenance, reducing fuel consumption as the gas engine are more efficient than typical diesel" says Przemysław Rajewski.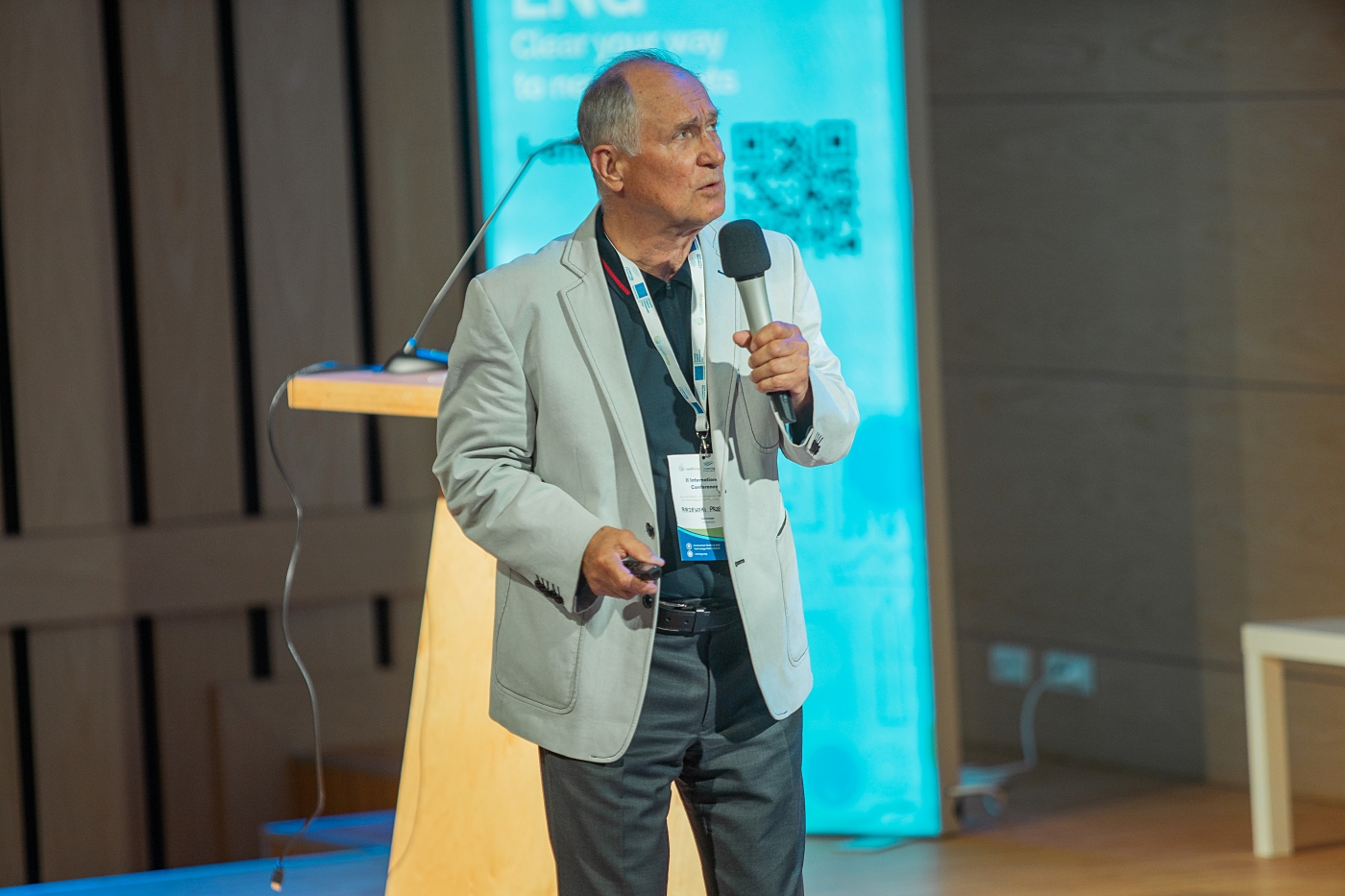 Recently, the engine has been started and the initial adjustment has been made on the Magda I unit located on the wharf in yard. Currently, work is being supervised on the installations in the engine room, the final deck development, the final foundation of the tanks based on the design documentation received from the Maritime University of Technology in Szczecin.
Summary of two days of the L-Energy Conference
On 14-15th of June in Pomeranian Science and Technology Park II International Conference of Liquid Energy project took place. During that event, speakers and guests with different backgrounds were discussing about bio-LNG market, its challenges and opportunities for technology on the micro- and nano-scale.
It was a great opportunity to hear about LNG and bio-LNG as an alternative energy sources or norwegian experiences related to the production of bio-LNG in the world's largest biogas plant. Moreover, injection of biomethane into the gas network and issuing green certificates in Lithuania and swedish perspective of supporting the production and the use of a biogas has been discussed.
During those days, the audience has a chance to find out more about rural electrification hybridization opportunities in Nigeria or impact of the Liquid Energy project on climate change mitigation. Participating in the conference, was also a great occasion to hear about pilot investments implemented as a part of the Liquid Energy project and see the real results of them.
Liquid Energy project
The aim of the Liquid Energy project is to show new products and services by using innovative technologies based on the use of LNG and (bio-)LNG as a fuel. Participation in the Conference is an opportunity to learn about solutions that, on the one hand, can contribute to achieving climate neutrality by 2050, and on the other hand, can create opportunities to strengthen the regional economy. The Liquid Energy project is implemented as a part of the Interreg South Baltic program 2014-2020.